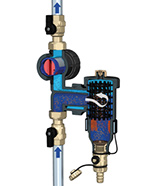 PROTECTING YOUR SYSTEM TO PROTECT YOUR WATER

The multifunction device is made up of a dirt separator and a cartridge strainer arranged in series. The dirt separator separates the impurities present in the water through the action of its internal element and retains the ferrous particles thanks to the action of two magnets. The cartridge strainer separates the impurities through mechanical selection of the particles based on their size through a special metal filtering mesh.

Maximum efficiency of particle separation at the first pass is thereby obtained.
The combined action of strainer and dirt separator guarantees maximum efficiency of impurity separation inside the system from the first pass

The dirt separator, positioned upstream of the strainer, prevents an increase in head losses due to gradual clogging

Eliminates magnetite present in the closed circuit, preserving the magnetic rotors of the circulators

Can be installed on horizontal or vertical pipes thanks to the adjustable fitting

Very fast and effective maintenance thanks to the bi-directional opening of the strainer, the magnetic ring that is easy to remove and the wide drain cock

 Strainer cartridge fitted with fine-mesh strainer for first pass cleaning and with larger mesh strainer for ongoing operation
---